With the expansion of the housing industry, housing prices have risen and risen again. Shops are not only more and more expensive but also hard to find. Those who want to start a regular business encounter a bottleneck. They begin to open up another way and use a mobile sales vehicle to carry out their great cause. There is no need to consider personal connections, do not need to worry about customer traffic, or even rent and utilities. So, more and more people are just around the corner. How much do you know about mobile vending cars?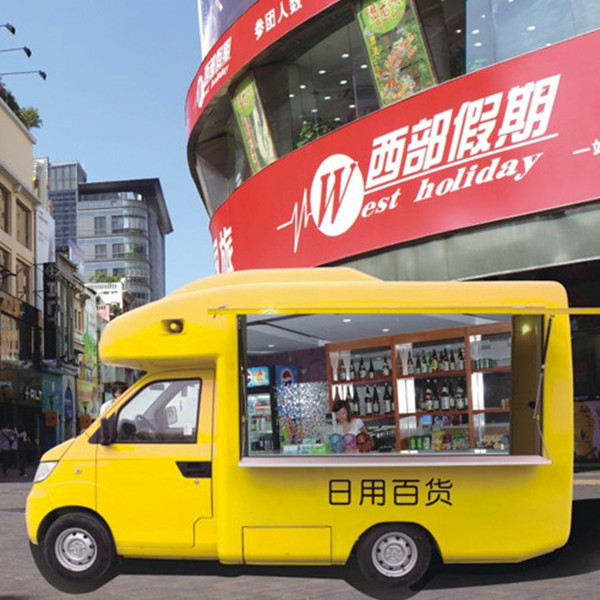 The mobile vending trucks can help customers produce fresh and delicious food on the spot by installing different food machines in the compartment; they can also sell vegetables, fruits, stationery, jewelry and other goods in the car. Flows in the gathering place of the large crowds, adapting, completely beyond the limitations of the fixed shops, so where special shops are the focus, more eye-catching than the stereotyped store, itself is a live sign. As a result, it quickly became the most popular vehicle on the market.

According to the survey, many citizens said that such mobile sales vehicles are very convenient for their daily lives. They are more hygienic and safer than roadside stands, and because they do not require rent and utilities, they are cheaper and more affordable than fixed stores. The customers themselves will have the idea that they will buy them, so the business is usually very hot. However, there are also people who complain about the fact that because of the unrestricted nature of mobile sales vehicles, it is very difficult to visit them again. If there are problems with product quality or food safety, they cannot find a solution. Everyone has different opinions on mobile sales vehicles. Even so, it has not affected its popularity in major venues.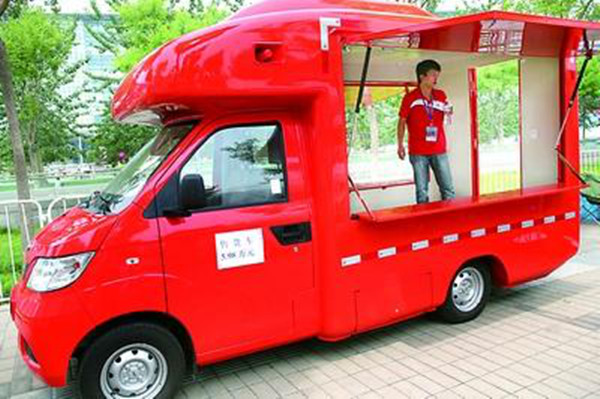 Many customers are worried about the power supply problem of mobile sales trucks . Apart from some models with their own power supply, our ordinary mobile sales vehicles can use the following options if they need to use high-power electrical appliances. If the business site is fixed at several places and times, the price of the electricity can be negotiated with the merchants in the surrounding stores. If there is no fixed flow, there are only three solutions at this stage: external utility power, engine and lithium battery packs. Starting a silent generator in the car at least seventy to eight thousand, may have greatly exceeded the scope of funding for entrepreneurs who want a small cost; if you use an ordinary generator, you can only put a distance to minimize noise and emissions; another two thousand watts The machine's lithium battery pack may work well, and it may take less than 20,000.

Many people will ask, what kind of licenses do you need to do for mobile sales trucks? A street vendor engaged in business activities is a street vendor who has no fixed business premises. Article 13 of the "Individual Industrial and Commercial Households Ordinance" stipulates that the management methods of street vendors without fixed business premises shall be stipulated by the people's governments of provinces, autonomous regions, and municipalities directly under the central government in accordance with the actual local conditions, and shall be implemented in accordance with local regulations; if the provinces and autonomous regions The People's Government of the municipality directly under the Central Government has not made any provision, and it is not necessary to apply for a business license in accordance with the "Individual Industrial and Commercial Households Ordinance". Therefore, the specific situation still depends on the policy of your location. If you do not have specific regulations there, you can use your sales truck in your city.

Take Beijing as an example. Beijing has not yet introduced relevant laws and regulations on mobile sales. Therefore, current mobile sales vehicles are still in a grey area. There is no legal identity road that makes mobile sales trucks face a common awkward situation. Although mobile sales trucks have shown their talents on many important occasions in Beijing, there are still nowhere to apply for licenses, there are no legitimate business licenses, and sometimes they fall to the point where they are chased by urban management and they are at risk of being banned at any time. Of course, these are different from these. The rigorous management of first-tier cities, and the flow of sales vehicles in the second and third-tier cities are still very smooth. Therefore, mobile sales vehicles are the best choice for young people who want to become rich in small cities.

If you are planning to start a business with a mobile sales vehicle, you must be careful to select the sales vehicle based on your own situation, and then actively understand the relevant local regulations, make adequate preparations and then start to show their talents.




Kage's Oil Cooler Adaptors series fittings can custom anodise to your specification in a range of colours.


Our double Vition O-ring seals provide leak free performance when used with a wide range of fluids, and for corrosion resistant, colour consistent.

Description of Forged Hose Ends:

Item: Forged Hose Ends
Process: CNC machining
Design: Universall or Customized
Material: Aluminium Alloy, Steel, Stainless Steel, Brass
Size: Custom Size
Thickness:Customized
Plating: Imitation gold, silver, brass, chrome or Custom requirement
MOQ:100pcs
Packing: 1pc polybag
QC Control: 100% inspection before packing,spot inspection before shipment
Sample time: 7days
Production time: 7-15 days,15-30days
Shipment: TNT,UPS,DHL,FEDEX,BOAT
Payment:100% in advance for small orders; 30% deposit, 70% before shipment for big orders.

Oil Cooler Adaptors

Oil Hose Fittings,Oil Cooler Reusable Hose,Oil Line Fittings,Oil Cooler An Swivel Fitting

Kage Hardware Product Co., Ltd , http://www.kage-autofittings.com